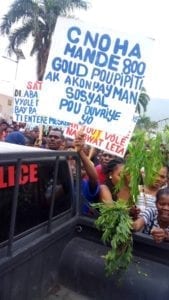 Hundreds of garment workers in Port-au-Prince, Haiti, staged a peaceful demonstration this week to protest the firing of some 45 union leaders from the Haitian garment workers' federation, GOSTTRA, and to push for a badly-needed minimum wage increase.
According to GOSTTRA, the union leaders were fired to intimidate workers and discourage further demonstrations. A series of protests began May 19 when thousands of Haitian garment workers took to the streets in a peaceful response to dramatic increases in transportation and food costs spurred by a 20 percent rise in fuel costs earlier this month.
Unions are demanding a garment sector minimum wage increase to 800 gourdes ($12.50) a day to keep up with inflation, which was sparked by the weakening of the Haitian gourde against the U.S. dollar. Workers are currently paid 300 gourdes per day ($4.50) while paying exponentially higher prices for basic expenses.
Garment workers also are calling for food subsidies, paid transportation to work and subsidized housing, seeking fundamental economic stability to enable them to provide food, shelter and other basics for their families.
Garment Workers Find It Harder and Harder to Get by over the Years
A 2014 Solidarity Center survey of Haitian garment workers found that after insurance and social security deductions, most export apparel workers spent more than half of their salaries on transportation to and from the factory and a modest lunch, leaving little to sustain a family or keep a roof over their heads. Since then, the plight of Haitian garment workers has worsened, as wages have not kept up with soaring living costs.
Although the country's Superior Council of Wages, which includes a labor representative, is currently considering an increase in the garment sector minimum wage, observers say it likely will not be high enough to cover garment workers' basic living expenses.
In response to worker demonstrations, the Association of Industries of Haiti (ADIH) closed all garment factories at the SONAPI industrial park in Port-au-Prince on May 20 and 22, effectively locking-out workers. In announcing its decision, ADIH cited concerns of safety and security of personnel, equipment and property. In the following days, garment workers at two industrial parks in northern Haiti (CODEVI and Caracol) organized solidarity demonstrations.