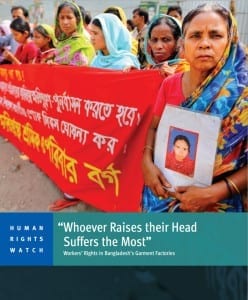 Bangladesh garment workers often risk their health and their lives at unsafe factories, and when they seek to form unions to address workplace problems, "factory managers continue to use threats, violent attacks and involuntary dismissals in efforts to stop unions from being registered," according to a Human Rights Watch report released today.
"I was beaten with metal curtain rods in February when I was pregnant," one garment worker told HRW. "They wanted to force me to sign on a blank piece of paper, and when I refused, that was when they started beating me. They were threatening me, saying, 'You need to stop doing the union activities in the factory, why did you try and form the union.'"
Her experience was not unique, according to "Whoever Raises Their Head Suffers the Most: Workers' Rights in Bangladesh's Garment Factories." HRW also has released a video with garment workers describing the attacks they face when they try to form unions.
Two years after the deadly Rana Plaza collapse that killed more than 1,130 garment workers, the report finds that despite international outrage over the series of mass fatalities at Bangladesh garment factories in recent years, garment workers take great personal risk when trying to improve workplace conditions.
In providing an in-depth look at the experiences of more than 160 workers from 44 factories, the report concludes that "the primary responsibility for protecting the rights of workers rests with the Bangladesh government.
"The poor and abusive working conditions in Bangladesh's garment factories are not simply the work of a few rogue factory owners willing to break the law. They are the product of continuing government failures to enforce labor rights, hold violators accountable and ensure that affected workers have access to appropriate remedies."
Rigorous enforcement of existing law would go a long way toward ending impunity for employers who harass and intimidate both workers and local trade unionists seeking to exercise their right to organize and collectively bargain, according to the report.
"If Bangladesh wants to avoid another Rana Plaza disaster, it needs to effectively enforce its labor law and ensure that garment workers enjoy the right to voice their concerns about safety and working conditions without fear of retaliation or dismissal," says Phil Robertson, HRW's Asia deputy director.
The report also notes the lack of full financing for the Rana Plaza compensation fund, stating that it "should not be seen as a success or a model unless and until it is replenished and full compensation is paid to claimants."
Among the report's recommendations:
The Bangladesh government should carry out effective and impartial investigations into all workers' allegations of mistreatment, including beatings, threats and other abuses, and prosecute those responsible.
The Bangladesh government should revise its labor law to ensure it is in line with international labor standards.
Companies sourcing from Bangladesh factories should institute regular factory inspections to ensure that factories comply with companies' codes of conduct and Bangladesh labor law.