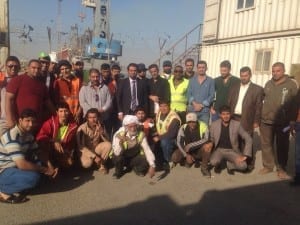 Transport workers at Gulftainer in the Iraqi port of Om Qasr port formed a union committee in November following a three-year organizing effort that involved raising awareness among workers about their rights on the job.
Recognizing they would be better able to negotiate for improved wages and working conditions if they were part of a union, some 119 workers have elected three members to a labor committee that will oversee union elections. The union would be an affiliate of the General Federation of Iraqi Trade Unions (GFITU).
The decision to hold elections signifies a key turning point for Iraqi unions, which generally have waited for management approval to form union committees but now recognize that the freedom to form unions is guaranteed by national and international law. Workers at Gulftainer talked with workers outside the workplace, and also reached out to night shift workers. They held an awareness workshop in Basra and an election preparatory meeting, where they discussed the mechanisms of implementing elections, and the participation of night shift workers in elections.
The newly-elected chairman of the union committee and two other workers at Gulftainer previously took part in a Solidarity Center workshop centered on developing organizing skills among worker representatives at companies funded by International Finance Corporation (IFC) loans.
The Solidarity Center is working with Iraqi trade unions to promote international labor standards at worksites, especially those where companies receive IFC loans, by using the performance standard of IFC institutions to protect worker rights. Iraq's labor code, created under Saddam Hussein, contains significant gaps in areas of discrimination, forced labor and the right to collective bargaining.
Iraqi unions elsewhere are improving working conditions at IFC-funded workplaces, following Solidarity Center training programs, and are documenting violations and negotiating with management to improve working conditions.
For example, at Erbil Rotana Hotel and at Bazian and Tasluja cement factories in Sulimanyya, workers who took part in the trainings sharpened their organizing skills and went on to negotiate improved work contracts so that workers now receive overtime pay, in accordance with Iraqi labor