The Solidarity Center is mourning the loss of Victor Hugo Quesada Arce, Solidarity Center project coordinator in Costa Rica, who died July 16 after a battle with cancer.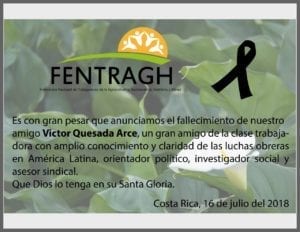 "Victor was always a dedicated, passionate and joyful person," says Stephen Wishart, Solidarity Center director for Central America. "He helped give workers courage, armed them with knowledge, and helped them rely on each other and this global labor movement we are all part of to build better realities for themselves and their families."
In his 30 years of strengthening unions and educating workers about their rights, Victor worked side by side with some of the most vulnerable and marginalized workers in the region. He helped revitalize plantation worker unions which primarily represent migrant workers in Costa Rica and which had been decimated by decades of anti-union assaults.
Victor came to the Solidarity Center five years ago as a worker rights advocate well-known across the region, and agriculture unions from throughout Central America have been sending tributes and an outpouring of appreciation for his many years of solidarity and support.
"We stand in solidarity and send hugs to friends, relatives of our brother Victor," writes FESTAGRO, the agriculture union in Honduras. "People like you are one of a kind, and are always remembered."