Kalthoum Barkallah, Solidarity Center senior program officer and master trainer in Tunisia, this week received a lifetime achievement award from the General Union of Tunisian Workers (UGTT). The award, the nationwide union's highest honor, is given to union activists for their dedication to union work and in recognition of their struggle in the defense of workers and human rights.
"We are enormously proud of Kalthoum and the great contribution she brings to the labor movement through her incredible dedication and accomplishments," says Hind Cherrouk, Solidarity Center country program director for the Maghreb region. "Kalthoum's expertise in nurturing and training new generations of leaders, especially women unionists, has ensured the labor movement in Tunisia and beyond is served by new, skilled union activists."
Presented by UGTT General Secretary Noureddine Tabboubi, the award reads: "Honoring sister and union activist Kalthoum Barkallah in appreciation for her dedication and perseverance in support for union work."
In conferring the award, Taboubbi noted Kalthoum's popularity among the UGTT's union structures from local to national.
"When I began the struggle for democracy, freedom and the rights of women in 1979, I never for a moment imagined that there would be a day when I would be recognized or honored for my part in realizing these noble objectives," says Barkallah.
Building Women's Leadership in Their Unions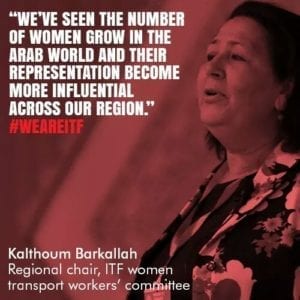 As an activist with the Tunisian General Federation of Railways, Barkallah was first elected as a deputy general secretary in 1983, heading up training within the union. She later was elected deputy general secretary in charge of international relations. In the railways industry, Barkallah was known as the "iron lady" for her determination and struggle to challenge her male colleagues in a male-dominated sector to achieve equality and justice for all.
As an active union leader with the UGTT, Barkallah built on the gender empowerment training she began in the railway sector to reach union members in a variety of industries throughout Tunisia, championing women's rights there and supporting her sisters beyond its borders.
Barkallah, who in 2006 was elected president of the International Transport Workers' Federation (ITF)­–Arab Women's committee, also recently received an award from the ITF Women's Committee for her fight and struggle in support of women workers in the transport sector.
Throughout her decades of service to workers and their unions, Barkallah balanced both work and family duties, raising two sons who each now have their own children.