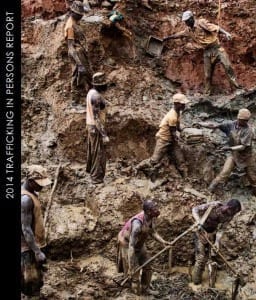 The U.S. State Department's decision to downgrade Thailand, Malaysia and Venezuela in its 2014 Trafficking in Persons report "should compel (those governments) and other countries with serious human trafficking problems to step up their efforts to fight this horrific human rights crime," says Melysa Sperber, director of the Alliance to End Slavery and Trafficking (ATEST). The Solidarity Center is one of 11 ATEST member organizations.
The three countries were among seven on the department's "Tier 2 Watch List," a designation that indicates governments do not fully comply with the U.S. Trafficking Victims Protection Act's minimum standards, but are making significant efforts to bring themselves into compliance with those standards. The other four countries—Afghanistan, Barbados, Chad and Maldives—were upgraded to "Tier 2." The Solidarity Center works with partners in Thailand and Malaysia to address forced labor and human trafficking.
By law, countries on the "Tier 2 Watch List" must be moved to another tier after two years. Human rights organizations and worker advocates had also called for Afghanistan, Barbados, Chad and Maldives to be downgraded to "Tier 3," a designation that makes the countries liable to sanctions, which could include the withholding or withdrawal of U.S. non-humanitarian and non-trade-related assistance.
More than 20 million people are victims of human trafficking, which includes labor and sex trafficking, according to the Trafficking in Persons report. Forty-four countries are on the "Tier 2 Watch List," including Bahrain, Cambodia, Haiti, Morocco, Qatar, Sri Lanka, Tunisia and Ukraine. Among the 23 countries on Tier 3, the lowest ranking, are Algeria, North Korea, Libya, Russia and Uzbekistan.
A coalition of anti-trafficking groups, including the Solidarity Center, applauded the State Department's decision to maintain Uzbekistan on Tier 3. According to the report, Uzbekistan's "government-compelled forced labor of men, women, and children remains endemic during the annual cotton harvest….There were reports that some children aged 15 to 17 faced expulsion from school for refusing to pick cotton."
Illegal profits from forced labor account for $51 billion per year, according to the International Labor Organization (ILO). The Trafficking in Persons report highlights the high incidence of forced labor in the fishing and mining industries.
Fifty-one narratives in the report identify abuses in the fishing industry, including "men that are enslaved out on the boats out at sea" and in seafood packing, said Luis CdeBaca, Ambassador-at-Large, Office to Monitor and Combat Trafficking in Persons.
"We've also seen forced labor in mining noted in the narratives of 46 countries and zero prosecutions or convictions around the world, including diamond mining in North Africa and gold mining in Peru, CdeBaca said at a briefing on the report's release Friday.
The Trafficking in Persons report, which has been issued annually for 14 years, covers 188 countries and "is a critical tool in the global fight against modern slavery and puts necessary pressure on governments to take a hard look at their efforts to stop human trafficking," said Polaris Project CEO Bradley Myles.