In honor of our 20th anniversary, we are hosting a book launch and celebratory evening event Wednesday, November 15.
Please join us as we mark a significant milestone in our work to promote worker rights worldwide, recognize our partners and allies, and lay the foundation for our next two decades. The book event is free. Buy tickets now for the Solidarity Center 20th Anniversary celebration or become a sponsor!
20th Anniversary Celebration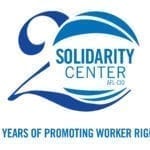 The festive evening includes music, food, drinks and the company of union leaders, labor activists and human rights defenders, along with other leaders and allies.
Join AFL-CIO Secretary-Treasurer Liz Shuler and special guest U.S. Rep. Karen Bass as we recognize U.S. Sen. Sherrod Brown for his leadership to protect worker rights, and the brave union and community activists from the frontlines of social justice in Colombia and Honduras.
6 p.m.–9 p.m.
Wednesday, November 15, 2017
Longview Gallery
1234 Ninth Street, NW
Washington, DC
◊ ◊ ◊ ◊ ◊
Informal Workers and Collective Action: Book Launch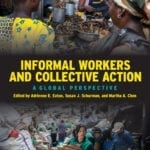 Join U.S. Rep. Pramila Jayapal, AFL-CIO Executive Vice President Tefere Gebre, Solidarity Center Executive Director Shawna Bader-Blau and international worker rights advocates for panel discussions on the new book, Informal Workers and Collective Action: A Global Perspective.
Panelists will explore how unions are using social and economic justice tools to organize workers and share their successes with others seeking dignity on the job, justice in their communities and greater equality in the global economy.
Edited by Adrienne E. Eaton, Susan J. Schurman, Martha A. Chen, Informal Workers was produced by Rutgers and WIEGO with support from the Solidarity Center.
November 15, 10 a.m. – 3 p.m.
AFL-CIO
815 16th St., NW, Washington, DC
A light lunch will be served.
Also, you can make a donation to support the Solidarity Center's next 20 years and stand with us to assert the fundamental rights of people at work!